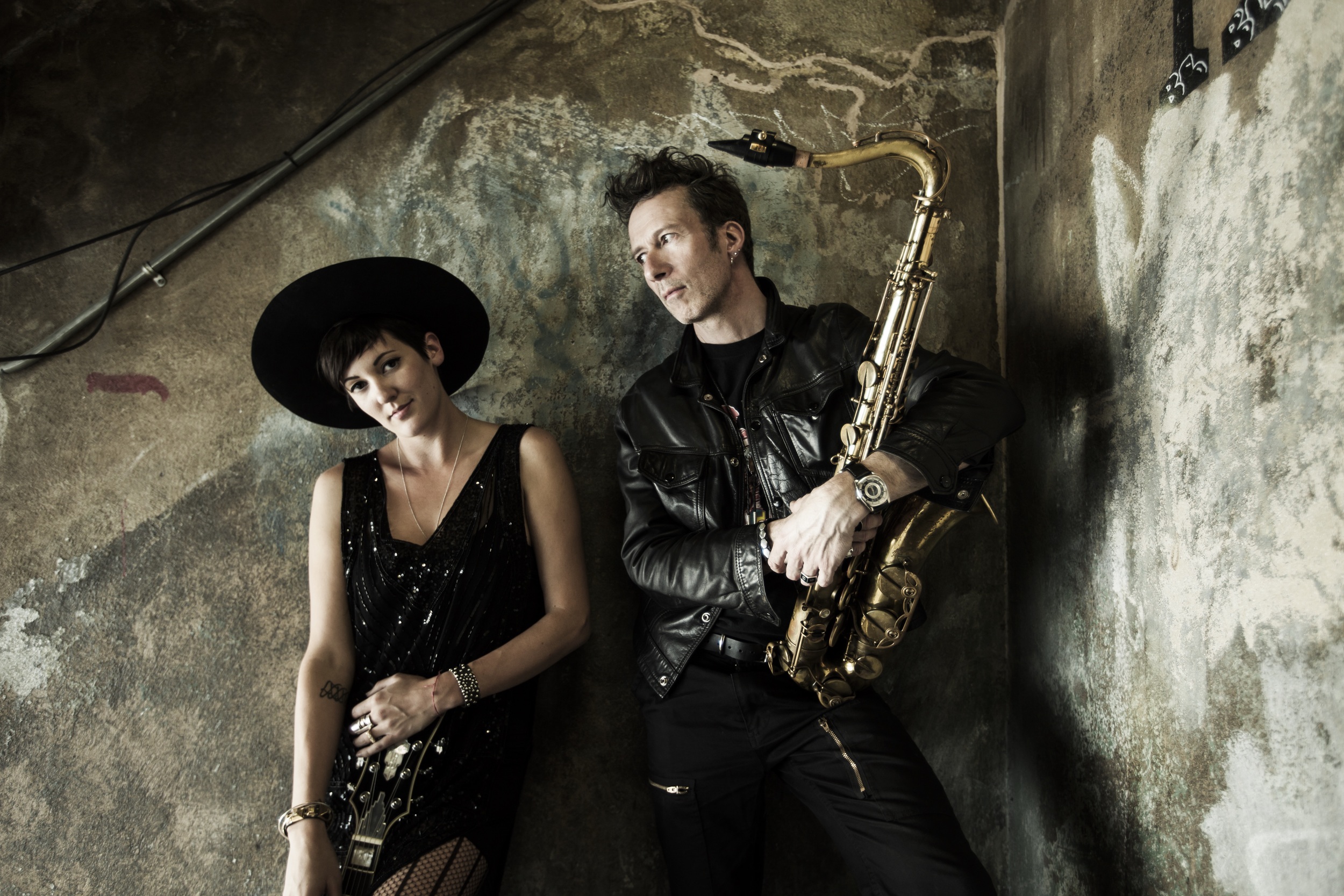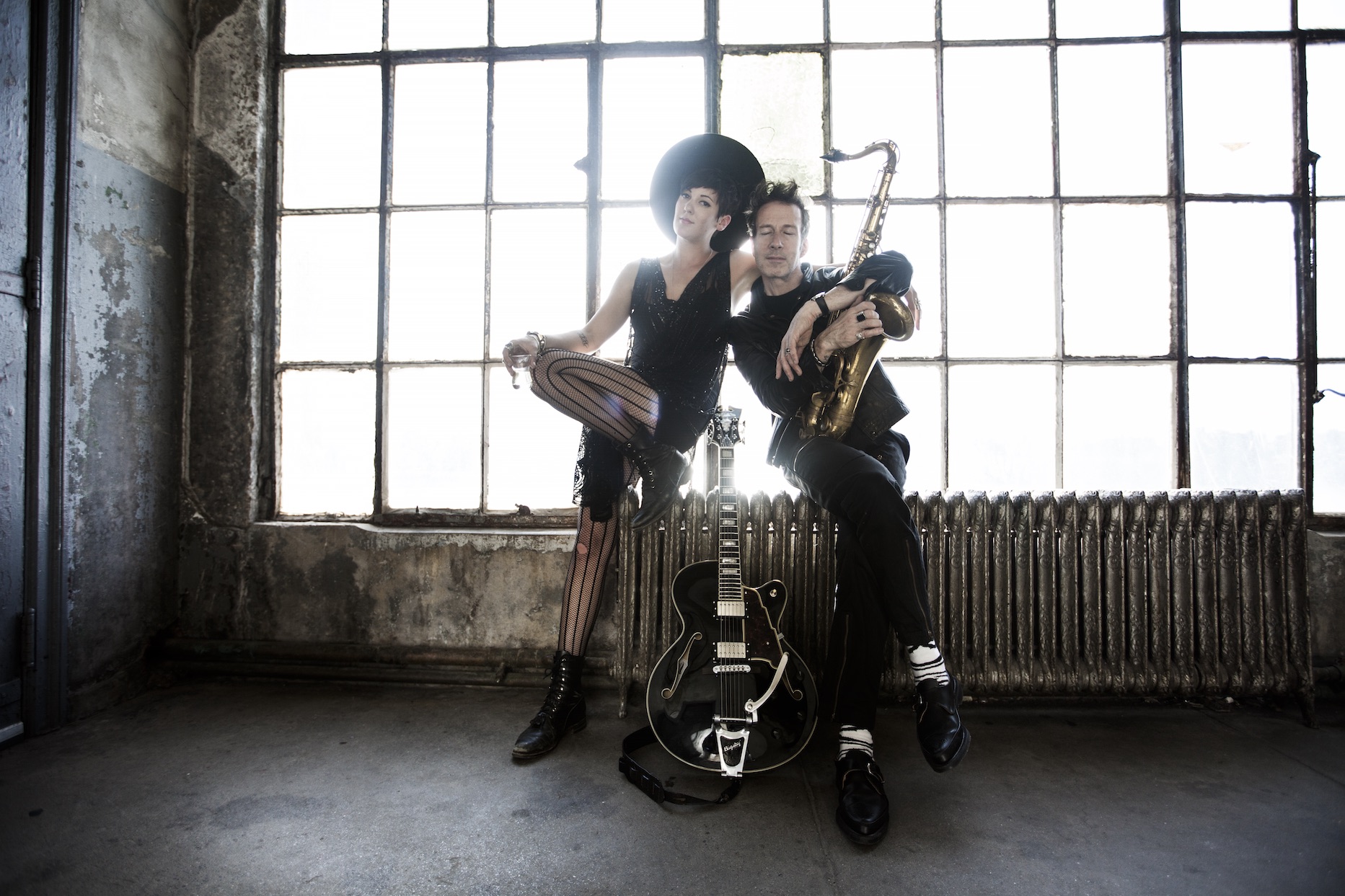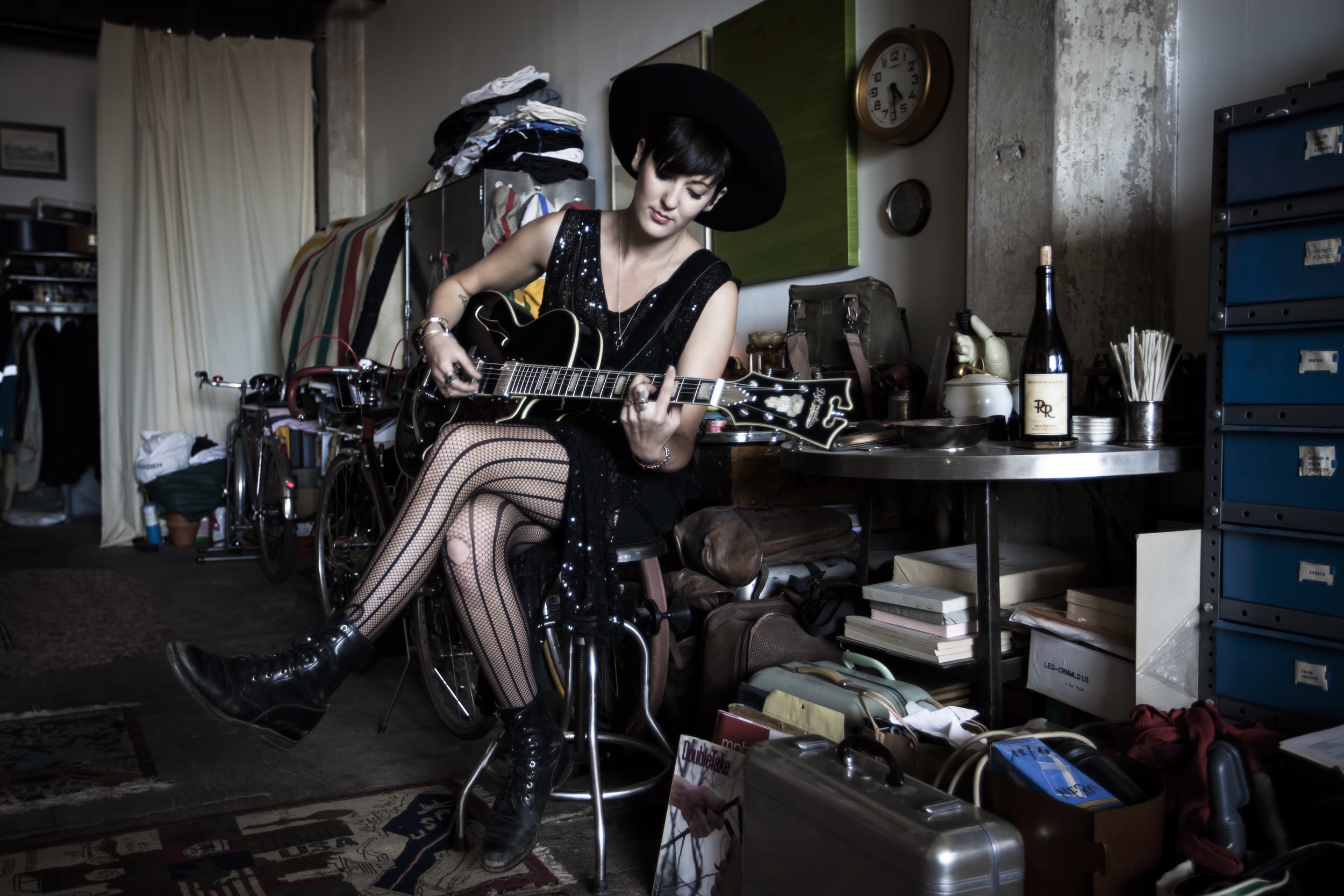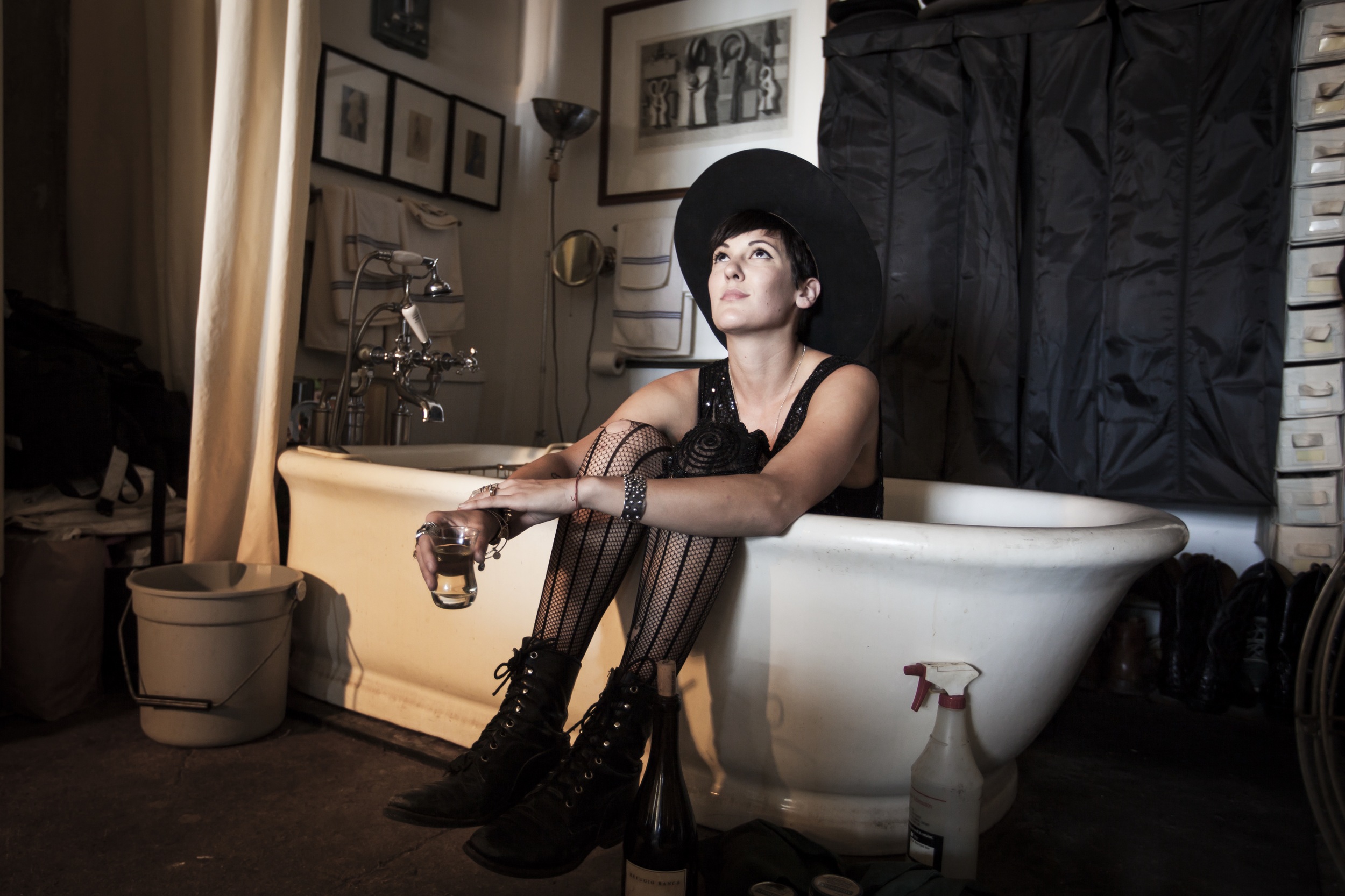 The Sound Of Twin Danger: Frank Sinatra Meets The Clash
JUNE 28, 2015
6:48 PM ET
Cocktail jazz isn't a sound you hear very much in pop music these days. But a duo known as Twin Danger is causing a scene with their self-titled debut album and live shows.
It's a familiar mood for saxophonist Stuart Matthewman; he co-wrote many of the biggest hits for Sade, like "No Ordinary Love" and "Your Love Is King."
Matthewman's latest singer is Vanessa Bley, the daughter of jazz piano great Paul Bley.
Behind their smooth exterior, there is a certain punk ethos to the way they handle themselves when they perform live. As Matthewman told NPR's Arun Rath: "We always said about how we wanted the band to look and be on stage: if Frank Sinatra was in The Clash."
Vanessa Bley came up with the name Twin Danger. She explains why: "In Manhattan, I'd go to this bar near 21st and Park . Around 6, all these businessmen would come in in suits. They'd go into the basement and about an hour later come up in total drag and have this epic party. It certainly displays this idea of having two sides to yourself."
The fragility of an ingenue with the allure of a villainess, Twin Danger's leading lady put us under her spell.
Our first encounter with Vanessa was in a dark speakeasy on a Sunday night. We descended into a Grammy afterparty with zero expectations.
A band of New Yorkers filled the barely lifted stage. Ms. Bley, dressed in all black, slithered to its edge. Twin Danger's supporting band, led by the prodigious Stuart Matthewman, jammed like a gritty, jazzy city street orchestra. The dynamic of the duo reigned seamlessly. Vanessa–tragic, sexy, soulful–made us feel like we were utterly alone, in a room with only her.
Then, it exploded into a serious basement party. Strangers became close friends, swaying and bouncing together. Vanessa joined the crowd, wailing, dancing, and hugging the bodies of our freshly sweaty souls.
She disappeared off stage that fateful night in Venice. But met us again, months later, on a warm May evening for a walk on some canals.
SMOOTH OPERATORS
JAZZIZ MAGAZINE - MAY 2015 BY JOHON MOORE
"Twin Danger Are Redefining Jazz"
Grammy Pro - Friday, May 29th 2015

Stuart Matthewman and Vanessa Bley are jazz duo Twin Danger. Matthewman, GRAMMY-winning Sade co-founder, and Bley, a singer/songwriter and multi-instrumentalist, spoke with GRAMMY Pro about transitioning from their previous projects to this jazz endeavor, reimagining Queens of the Stone Age's "No One Knows," and the trouble with defining the jazz genre.
Twin Danger gives listeners a taste of the Roaring Twenties with their new single "Sailor," a jazz-pop romp brought to life in the brand new video below. The group was formed by Grammy-winner Stuart Matthewman, co-founder and saxophonist of Sade, who co-wrote many of the band's greatest hits, in addition to producing three of Maxwell's acclaimed albums.
"The classic standard, 'You've Changed' (written by Bill Carey and Carl Fischer in 1941 and covered by countless artists), inspired us to write a song with the idea of, 'No, you haven't changed, I have!'" singer Vanessa Bley tells Billboard. "The lyrics paint a picture of perhaps a naval officer returning home from WWII to a lover who has changed and doesn't want to continue their romance. As the bridge points out, 'love deserves a song' -- even if it doesn't last."
The video, shot in the Lower East Side institution Mehanata (a Bulgarian bar complete with ice-cage vodka room), nods to a different era in New York without going completely old-school. "We wanted to modernize the era of the song's inspiration and reflect the aesthetic of our own shows," bandleader Stuart Matthewman says. "You never know what might happen at a Twin Danger show, and a sub-plot is always at play. In this case, we're stealing diamonds and escaping our own gig by crawling through a mix of characters in a dirty Lower East Side club."
Watch the video below, and look for their self titled debut to drop June 30.
NY1 BY Eric Holland
· APRIL 29, 2015
One of the most memorable shows at this year's South by Southwest Festival was the one, in a church no less, from the group led by Hull, England's Stuart Matthewman who co-wrote just about every Sade song that's ever existed as well as played sax (& some guitar) on them AND Vanessa Bley, a stunning chanteuse who originally hails from upstate New York.
The two
hooked up in Brooklyn a couple of years back and, as Stuart told me, they just fell into it. WATCH VIDEO HERE > >
Vanessa Bley is an environmentalist who dresses like a Hell's Angel badass and sings like Billie Holliday.


"Twin Danger's Vanessa Bley is an environmentalist who dresses like a Hell's Angel badass and sings like Billie Holliday. A chanteuse for the 21st century, Vanessa's bluesy, sultry voice lifts you up to another planet. As she says, "We encourage people to dress up and get lost with us. You'll be swinging, dancing, maybe a little teary eyed. Probably spill some wine on yourself, get a few bruises. You know, the usual jazz show." -
Style Like U
via
The Huffington Post
Style
Spring 2015
By Ken Micallef
Founded by vocalist Vanessa Bley (daughter of influential jazz pianist Paul Bley) and tenor saxophonist Stuart Matthewman (who played that terrific sax solo on Sade's "Smooth Operator" and guitar on many of the R&B diva's songs), Twin Danger's glistening late-night jazz hints at Twin Peaks' eeriness and film nourish isolation. As acoustic bassist Larry Grenadier maneuvers the low end, Bley sings like a sad torch singer lost somewhere on Sunset Boulevard. Twin Danger's songs are strong, their performance hypnotizes, consider your heart broken.
Twin Danger: The Best Kind Of Double Trouble
Yahoo Music, April 10, 2015 at SXSW - By Dave DiMartino
There is an air of sophistication, of melody, of late night movie soundtracks, black and white images of bars, glasses clinking, and cigarette smoke, in the music of Twin Danger.
And you get the impression they're sort of going for that.
And while the captivating image on the cover of Twin Danger's debut album further lends itself to such interpretations, all for the good. Because it could not more perfectly match the spirit of the wonderful music within.
The creation of two musicians with fascinating pedigrees, Vanessa Bley and Stuart Matthewman, the band plays music residing somewhere in the middle of straight jazz, pop and R&B: There are no deliberate commercial compromises in evidence, groove is everywhere, and everything simply…flows. Their new album is easily one of the year's finest, and it gets better with every hearing.
So who are they? You already know the music of Stuart Matthewman: He is the co-founder of the group Sade, featuring the singer of the same name, and of that band's instrumental offshoot, Sweetback. He is a multi-instrumentalist, but you'll especially hear him on saxophone In Twin Danger, and you'll likely recognize his tone.
Complementing him in the band is vocalist Vanessa Bley, whose fascinating background—she's the daughter of artist Carol Goss and legendary jazz pianist Paul Bley, a performer and songwriter who's collaborated with Estonian performer Kerli, and a notably striking performer—helps put the "Twin" in the danger the band offers in live performance.
At South By Southwest last month, the band stopped by Brazos Hall for a very distinctive Up Close session—you can tell our cameraman was having a good time—and mesmerized us with two of the finest performances we witnessed. They will likely be going places, and we're happy to provide you this early view.
Sade Cofounder Covers Queens of the Stone Age With New Band Twin Danger (Exclusive Video)
By ERIC R. DANTON
Feb 24, 2015

Stuart Matthewman and Vanessa Bley of Twin Danger.
Stuart Matthewman's most famous band—Sade, which he cofounded in 1982 with the singer Sade Adu—takes its time between projects, which affords Matthewman plenty of opportunities to do other things. His latest venture is Twin Danger, a collaboration with New York singer Vanessa Bley that is steeped in the sound of old-school vocal jazz—a treatment they give to a cover of "No One Knows" by Queens of the Stone Age. A video for the song premieres today on Speakeasy.
It's an incongruous choice: the original is a lean rock tune propelled by Dave Grohl'srugged drumming. Twin Danger's version sets up Bley's alluring vocals with waves of piano and Matthewman's lusty saxophone before a distant guitar and then a blast of horns dial in the riff.
"That song is already cool," Bley says. "But it's already been done their way. We decided to make it a bit sexier."
She met Matthewman through a mutual acquaintance who thought the two should connect. At the time, she was working on a solo project that evolved into the New York band Beast Patrol, which mines a classic, noir-ish rock 'n' roll sound.
"They wouldn't really live without each other," Bley says. "Twin Danger gets a lot of its edge onstage from what we've been doing in Beast Patrol, and vice versa."
Their version of "No One Knows" came together in the studio one day when Bley was late to rehearsal. She came in while the rest of the band was working out the arrangement.
"It's always good to do something that people will recognize live when you're a new band," Matthewman says. "We have a jazzy sound, but we didn't want to do a jazz standard. It was kind of, what wouldn't you do?"
They had only rehearsed the song a handful of times when they shot the video, which is a study in moody lighting and stylized performance as the camera picks up a gleam of brass from the saxophone and a spotlight finds Bley's face then shifts away.
Every so often a shift occurs in the zeitgeist that creates new fans of old genres: a resurgence in swing music occurred in the mid-'90s, and the recent Oscar-winning film Whiplash introduced younger filmgoers to jazz, in general, and saxophonist Charlie "Bird" Parker, in particular. "Bird" was name-checked multiple times in the movie, for obvious reason. The man is a legend.
With their debut release, Coldest Kind of Heart, the Brooklyn-based jazz-noir duo Twin Danger will likely cultivate a new generation of jazz fans with their sultry, modern fusion of swinging jazz and soulful blues. This ain't your grandparents' jazz, not by a long shot. That staid genre of pearls and suits is now adorned in leather and tattoos.
The pair has a solid pedigree despite this being their first release. Stuart Matthewman is an original member of the group Sade, where he has contributed his unmistakable saxophone sound (and co-writing skills) for the last three decades. Vocalist Vanessa Bley is the daughter of a renowned jazz pianist who worked with Charles Mingus and Charlie Parker. Together they mix a seductive cocktail of noir jazz that makes the old sound intoxicatingly new.
In this case, the Grammy-nominated song for Best Hard Rock Performance in 2003 has received a sexy makeover. Twin Danger have taken the Queens of the Stone Age hit "No One Knows" and turned it on its heels. If a song could have a come-hither look, this one definitely would. When Bley sings the line "pleasantly caving in" at the end of the second verse, you suspect many listeners who might otherwise never listen to jazz will find themselves doing just that. The rest of the album (due April 21, 2015 on Decca/Universal Music Classics) features original material that is equally mesmerizing, including the title track, featured here: